Lepidochelys kempii (Kemp's ridley)
Hang Ten's Patient History
Hang Ten hatched from Nest #23 during our 2009 nesting season with a unique birth defect. Her front flipper was forked and curled underneath her body. She was released on the beach with the rest of the hatchlings from her nest, but washed up several hours later. Plans were in place to release her when she grew to a larger size but eventually we realized that she would not survive in the wild due to diving problems and difficulty hunting.
When she was smaller, she traveled to local events and schools to educate the public. She is too big to travel, but don't worry, Hang Ten is still doing the job of educating! You can find her happily eating shrimp on any given day at our facility.
Hang Ten is the only resident sea turtle whose exact age is known. She was born from a nest that hatched on July 11, 2009.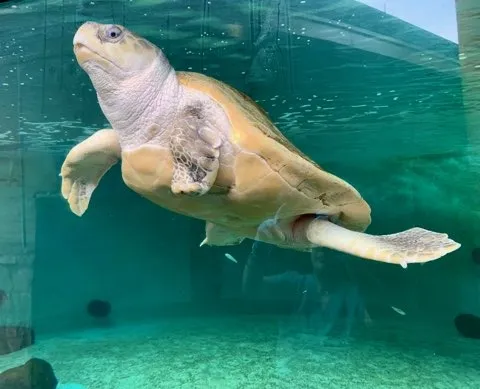 Ways to help Hang Ten's Recovery
One of the three primary missions at Sea Turtle, Inc. is rehabilitation. We work hard to rescue and return every sea turtle back to the wild. Proceeds from this adoption will go directly to purchase needed medical supplies, veterinary exams, x-rays, food and general care for our rehab turtles.
Subscribe to our Quarterly newsletter